An investigation into the Colorado shooting suspect has revealed new details.
An investigation into the Colorado shooting suspect has revealed new details.
Updated on November 24, 2022 18:32 PM by Michael Davis
It was bruised and swollen, and he uttered slurred responses to the judge's brief questions as the suspect slumped during his first court appearance after shooting five people at an LGBTQ nightclub before being tackled and pistol-whipped by bystanders. Anderson Lee Aldrich, 22, appeared from jail on video and was ordered to remain in custody.
On Dec. 6, a hearing is expected for the accused shooter, suspected of killing someone and committing a hate crime. In court papers released late Tuesday, public defenders for the accused gunman said their client identified as nonbinary and used they-them pronouns. According to the filings, the client will be referred to as Mx. Aldrich in all formal filings.
The District Attorney Michael Allen said his gender identity would not alter his approach to the case or determine if he would file hate crime charges outside the courthouse. The National Trans Bar Association co-chair Kristen Prata Browde says a suspect's gender identity should not influence whether they can be prosecuted for hate crimes in the Club Q shooting.
Crime motives are the same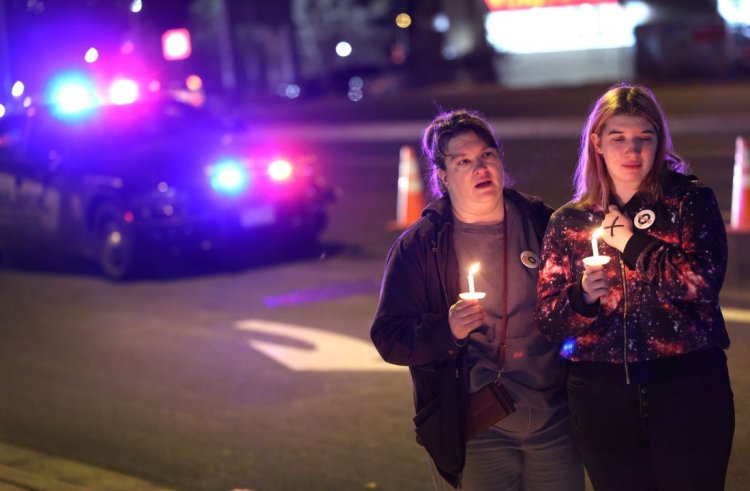 (Image Credits: Newsweek)
According to Prata Browde, there's no difference between the motives for crimes based on whether a person belongs to a protected class. Legal experts say whether the individual's actions fit within the law regarding hate crimes is irrelevant. They suggest that the court and prosecutors treat the suspect "like any other defendant," respecting his preferred pronouns and gender identity.
There have been reports of a man in body armor entering the club just before midnight Saturday and firing a long gun into the crowd, killing five people and injuring 18 others before clubgoers tackled him, said a police officer and witnesses. Among club patrons, an Army veteran grabbed the gun from the attacker, pummeled them bloody, and instructed another club member to kick the attacker in the face interventions authorities said had saved lives.
Authorities reported the incident
Law enforcement officials have reported that the suspect was arrested outside Colorado Springs last year after his mother reported that the suspect threatened her with homemade bombs and other weapons. El Paso County Sheriff officials released a news release regarding the 2021 incident, saying that the scene was frightening, with nearby homes evacuated. A negotiation team was used to arrest the suspect.
According to court documents filed in 2016 by the suspect's grandparents, the suspect is referred to as a male in court documents that they sought to change his name. The grandparents wrote to the court that the minor wishes to protect himself and his future from contact with his birth father and criminal record. "Father has not had contact with the minor for several years."
Conservative and religious Republican
His biography describes him as a religious and conservative Republican who condemned gun violence, having worked as a pornographic actor and now as a mixed martial arts coach. While Brink acknowledged that he had strongly disapproved of gay people when the child was young, he expressed sympathy for the families of those murdered in the club shooting during the interview.
In 2011, she was charged with public intoxication, driving under the influence, and possessing a controlled substance without a valid prescription in California in 2008. In 2012, her mother set her bed on fire after being admitted to a San Antonio hospital's psychiatric ward after being admitted to the hospital for psychiatric treatment, according to court records, leading to a probation sentence of five years.
Lack of attention and feeling isolated
A court-ordered psychologist examined Laura Voepel, who said her troubles began when she was ten and her parents separated, leaving her feeling isolated and neglected. We were unable to get in touch with her for comment. According to court records, the suspect lived with their maternal grandparents since childhood, who listed the child as a dependent in 2008.