The New Twitter Owner's Mockery Of #Stay Woke T-shirts sets Twitter Ablaze
The New Twitter Owner's Mockery Of #Stay Woke T-shirts sets Twitter Ablaze
Published on November 24, 2022 14:31 PM by Michael Davis
Elon Musk can never get anything done without grabbing the attention of the onlookers, and he does this with loads of mockery by creating content for the starving online messy world. And this time, he has done this not by being an owner of SpaceX or Tesla but by becoming the new owner of Twitter.
Elon Musk can never go easy with himself and perhaps with his newly acquired employees, and that's what the Twitter sensation is all about.
Elon Musk's mockery tweet of having found #Stay Woke black T-shirts in the closet in the Twitter HQ has been trending across the entire platform.
On Tuesday, the new Twitter owner uploaded a video on his feed
"Found in a closet at Twitter HQ fr" followed by two laughing emojis. In the video, he could be heard saying, "Here we are at the merch … and there's an entire closet full of hashtag woke t-shirts," by showing the old T-shirts in the video.
Since then, this video has gained more than 21.3 million views with 84.8k Retweets and garnered more than 608.1k likes.
Reason for #Stay Woke T-Shirts
Ryan Mac, a tech writer for the New York Times, has tweeted a series of explanations as to why the t-shirts were produced and why they were on Twitter's property.
The concept behind creating these #Stay Woke T-Shirts was to support The Black Lives Matter Movement, which gained popularity in 2016, and Jack Dorsey, a co-founder of the business, wore the shirt in an interview that same year.
This campaign was done about the police officer Darren Wilson who killed 18-year-old Michael Brown in Ferguson, Missouri; Dorsey explained at the time that the hashtag stood for "being aware, staying aware [of] what you're seeing on the TV screen [in Ferguson] versus what's happening on the ground."
No End To Mockery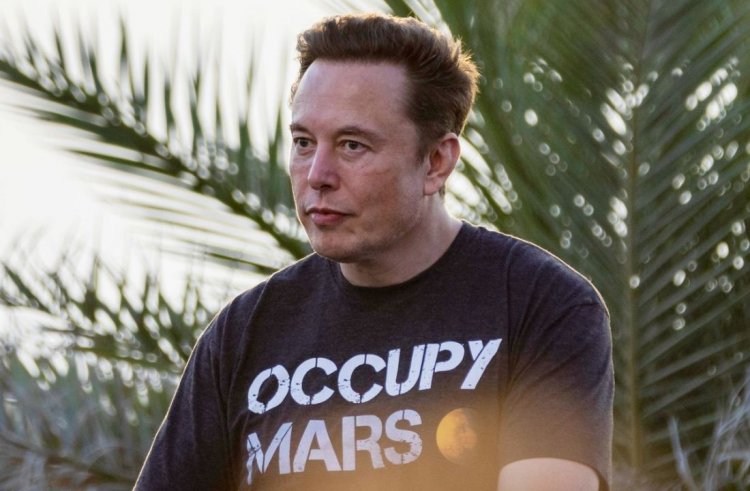 (Image Credits:Blomberg.com)
It is hard to satisfy Elon Musk as he cannot be satisfied, and this is proved by his Wednesday post revealing a new modified t-shirt he found in the closet with #Stay @ work.
He tweeted this as "Awesome new Twitter merch!" with the t-shirt that read #Stay @ work.
The phrase probably refers to news stories about extraordinarily long workweeks, massive layoffs, and massive resignations occurring under the new leadership of Elon Musk.
Elon Musk and his new Twitter
Since taking over Twitter in October, Elon Musk has had the desire to enhance the social media platform public. Since then, Elon Musk has been brutally criticized for firing Twitter executives and thousands of other employees since his ownership.
The new Blue plan
Additionally, there have been conflicting reactions to Elon Musk's Blue Verified concept. Users must pay $8 monthly for this subscription service to have the blue checkmark displayed next to their account name.
Right after the dismissal was revealed, two pranksters who claimed to be sacked engineers reported outside the company's San Francisco offices. They both claimed to be Rahul Ligma and Daniel Johnson, although neither had ever worked at Twitter. According to a tweet from Elon Musk, the joke was one of the finest trolls ever.
The mocking Billionaire
Elon Musk posted a picture of himself on Twitter standing between two men whose nametags read "Rahul" and "Daniel." The group was photographed with the message, "Welcoming back Ligma & Johnson," in front of a big Twitter logo.
Elon Musk received huge backlash for making jokes about firing people when his colleagues were being let go as part of the restructuring.
Hope things get better with Tweets, Twitter, and Twitter owner.