Richest NBA Executive Adam Silver Net Worth
Richest NBA Executive Adam Silver Net Worth
Updated on November 10, 2022 12:40 PM by Andrew Koschiev
The American lawyer and sports executive now serving as the fifth and current commissioner of the National Basketball Association is recorded to own a net worth of $40 million.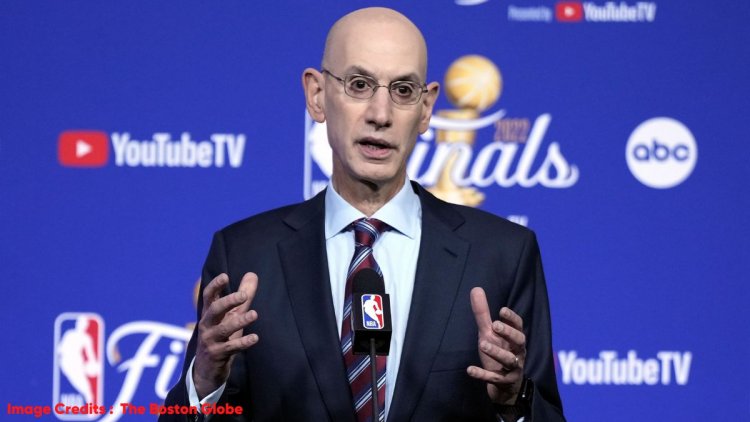 Adam Silver was born on April 25, 1962, in Rye, New York, a suburb of New York City. After graduating from Rye High School in 1980 then moved to Duke University and majored in political science. He served as a legislative assistant for Les AuCoin, a U.S. House of Representatives member, for a year after receiving his undergraduate degree in 1984. Later, he enrolled at the University of Chicago Law School, earning his J.D. in 1988. Silver served as a law clerk for Judge Kimba Wood of the U.S. District Court for the Southern District of New York upon graduation from law school. After that, he became an associate at Cravath, Swaine & Moore.
Adam Silver COO
In 1992, Silver began his eight-year tenure as Deputy Commissioner and Chief Operating Officer with the NBA. He participated in projects such as the development of the WNBA league, the NBA Development League, NBA China, and the partnership with Turner Broadcasting for them to manage the NBA's digital assets while holding that position. He also participated in the league's last three collective bargaining agreements with the National Basketball Players Association.
Additionally, he has served as NBA Chief of Staff, NBA Senior Vice President and Chief Operating Officer, and Special Assistant to the Commissioner.
NBA entertainment produced by Adam
The IMAX film "Michael Jordan to the Max," the documentary "Whatever Happened to Michael Ray?" (2000), the movies "Like Mike" (2002) and "Year of the Yao," and the flicks "Like Mike" and "Year of the Yao" were all produced by Silver when he was employed with NBA Entertainment.

Adam Silver stepped in as the new commissioner
When he announced that he would leave his job on February 1, 2014, David Stern, the NBA Commissioner at the moment, backed Sterling Silver to be the organization's new commissioner in October 2012.
Adam Silver's action on racist comments
Adam Silver had his first significant challenge as league commissioner in late April 2014 when he had to address the racist comments by Clippers owner Donald Sterling. On camera, Sterling was heard making incredibly offensive remarks to his girlfriend. Following the release of the audio, Silver and the NBA said that Sterling would be permanently barred from attending any NBA events. In addition, Silver and the NBA stated that they would use all legal means to compel him to sell the franchise. This one was one of the harshest sanctions ever levied on a professional sports club owner.
Also Read: Alex Honnold Net Worth

Adam silver's appreciation
In the sports sector, Silver has received several accolades and honors. The Sports Business Journal named him first on their list of the 50 Most Influential People in the Sports Business for 2016. He was recognized in 2015 as Sports Business Journal's Executive of the Year, one of Time magazine's 100 Most Influential People, and one of Fortune magazine's 50 Greatest Leaders. Additionally, Sports Illustrated honored him as Executive of the Year in 2014.

Adam Silver's family life
Since 2015, Silver has been wed to his wife, Maggie. Together, they have a daughter. He is on the Duke University Board of Trustees and was given the University of Chicago Law School's 2016 Distinguished Alumnus Award. Additionally, he is a director of the Lustgarten Pancreatic Cancer Foundation.

Annual salary
Silver earns $10 million in pay annually. Adam Silver's contract with the NBA was extended in June 2018 to include the 2023–2024 campaign. He will have received exactly $100 million in compensation from the league by the end of that deal. He probably also receives bonuses for reaching particular benchmarks and revenue/expansion objectives.
FAQ's
Q: Who founded NBA?
A: An organization with a 70-year history of innovation is the NBA. Boston Garden owner Walter Brown thought that large ice hockey arenas, typically empty on weeknights, might be used to hold basketball games in June 1946 in New York City.
Q: What degree does Adam Silver have?
A: He gained a law degree in 1988 after attending the University of Chicago.
Q: Who has the best fanbase in the NBA?
A: The Los Angeles Lakers are the most-followed National Basketball Association club on Facebook, with 21.59 million fans. The Atlanta Hawks' official account has 1.57 million supporters and is last.
Q: What did Adam Silver do before NBA?
A: Before joining the NBA, Silver worked as a litigation associate at Cravath, Swaine & Moore in New York, where he specialized in media and antitrust matters. In addition, he worked for Judge Kimba Wood of the Federal District Court in New York City as a legal clerk.
Q: How much does Adam Silver get paid?
A: He gets paid $10 million.
Q: What race is Adam Silver?
A: Adam Silver is a Jewish American.