RHOA Alum Porsha Williams weds Simon Guobadia as per Nigerian custom
RHOA Alum Porsha Williams weds Simon Guobadia as per Nigerian custom
Updated on November 26, 2022 20:29 PM by Evelyn Mia
Porsha Williams is no longer single, as she has a husband to share with. The former Real Housewives of Atlanta star Porsha Williams and the businessman, 57, born in Nigeria, got married on Friday in front of 250 guests at the Four Seasons Hotel Atlanta. On Saturday, the couple will marry again as per the American tradition.
Porsha Williams on her wedding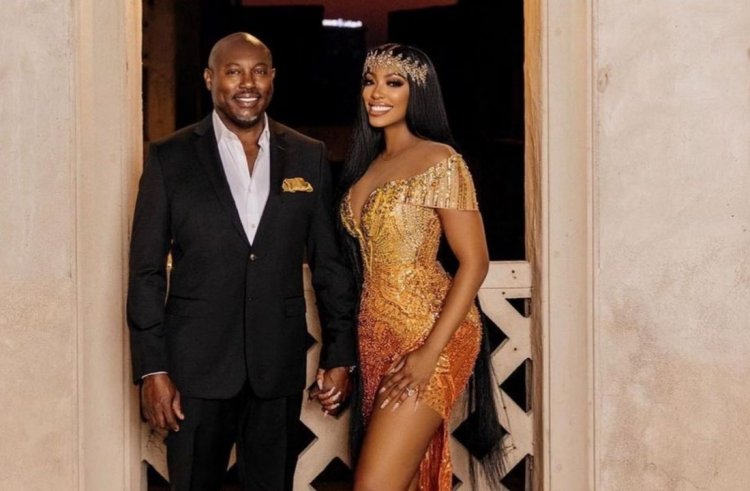 (Image Credits: sportskeeda)
Porsha Williams, in one of her interviews with a publication, mentioned,
"I am ridiculously excited, I am just so ready. I'm not even nervous. I mean, I know I'm marrying the love of my life, and it's just going to solidify our relationship and our family bond. I'm calm and excited."
She also conveyed that Simon Guobadia was a little nervous about the ceremony. He is not just nervous as one might think, as walking down the aisle makes him nervous instead, he is meeting his friends and family from Atlanta after a very long time.
Seven costumes for two weddings
The interesting fact about this wedding is that she has to change seven costumes during the two-day celebration, which makes Williams anxious.
She said with a huge laugh that "It's going to be a true fashion extravaganza, I just couldn't turn any dresses down! If a wedding dress came my way, and I loved it, I got it."
Just on the day of the Nigerian wedding, The Real Housewives of Atlanta star had to change three outfits for the ceremony. She wore a red gown designed by Lakimmy, customary for an Edo bride. She was photographed wearing Benin coral beads as a headpiece called okuku.
Her second and third outfit change was designed by Tabik, where one gown was in royal blue, and another was in a golden gown.
The theme colours of the day were purple and teal, and guests were also asked to follow suit by donning traditional or formal dresses inspired by Nigeria.
Nigerian traditional costume
Woman dress: Iro and Buba, a colourful skirt and top typically lavishly beaded, are the typical clothing items for ladies in Nigerian Yoruba and Edo culture. Women frequently decorate by carrying a fan and donning a gele, an elaborate head wrap.
Men dress: in an agbada, an enormous kaftan made of guinea or lace, and an Asoke-fabric cap.
A representative from their families presided over the event, featuring traditional Benin singers and dancers. Guobadia, 57, is a native of Benin City in Nigeria's Edo State.
Wedding menu
The wedding menu featured all southern favourites like fried lobster, sirloin, and cornbread.
The couple is said to wed in an American wedding ceremony in front of 350 guests on Saturday night.
After the church service, a ball and after-party have been arranged, which is said to attend by Other "RHOA" alumni and stars, including Kandi Burruss, Kim Zolciak-Biermann, Cynthia Bailey, Drew Sidora, and Monyetta Shaw.
Couple's previous life
Williams was previously married to Kordell Stewart and was engaged to Dennis McKinely; they share a three-year-old daughter Pilar Jena ("PJ"). William's now husband has five children, namely Quentin, Nicole, Christian, Benjamin and Ximena, from his previous marriage, and she thinks this will be her last marriage. She is excited about expanding her family with her new husband.
The couple had been dating for a month when they got engaged in May 2021. When Guobadia married his on-screen "friend" Falynn Pina in Season 13 of "RHOA," they first became acquainted.