Prince Harry's Legal Battle Against British Tabloids: Phone Hacking, Unlawful Information Gathering, and More
Prince Harry's Legal Battle Against British Tabloids: Phone Hacking, Unlawful Information Gathering, and More
Updated on July 29, 2023 13:10 PM by Andrew Koschiev
Following the marriage of Prince Harry and Megan Markle, the British media have been on their heels, raking in millions of reads from stories about their daily life sometimes true and oftentimes twisted to suit their aims. Hence it is no surprise that the Duke of Sussex has decided to clap back.
Harry and other celebrities including actors, sports stars, celebrities, and people who simply had a connection to high-profile figures are suing MGN, publisher of the Daily Mirror, the Sunday Mirror, and the Sunday People tabloids, accusing them of widespread unlawful activities between 1991 and 2011.
According to Harry who is a major player in the suits, the media group's journalists or private investigators commissioned by them carried out phone hacking on an "industrial scale" and obtained private details by deception, with the knowledge of senior editors who knew and approved of such behavior.
During the court hearing against MGN which began on May 10th, Prince Harry was selected as one of the test cases where he started he is seeking up to 320,000 ($405,000) pounds in damages concerning 33 articles considered at the trial, plus a further 120,000 pounds for 61 episodes of alleged unlawful information gathering.
Although, MGN has acknowledged that private investigators were instructed to illegally obtain information about three individuals who were part of the test cases, including Prince Harry on one occasion. The publisher has apologized unreservedly and agreed to pay £500 in compensation to the prince. However, they deny any further wrongdoing regarding Prince Harry, stating that there is no evidence to support such claims.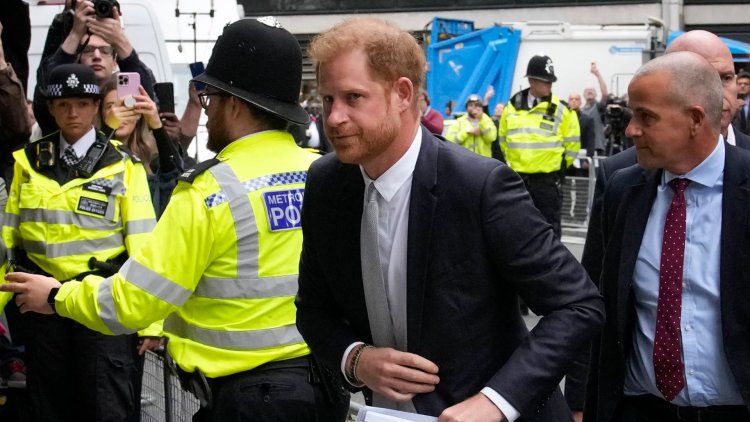 (Image Credits:Fortune)
A ruling is yet to be made for the case with MGN, however, the duke is also currently in a legal battle with the News Group Newspapers (NGN) — publisher of The Sun and the now-defunct News of the World tabloids.
According to a High Court Judge ruling, on Thursday 27th of July, Prince Harry's lawsuit against The Sun tabloid alleging unlawful information gathering can go to trial but will not include phone hacking claims.
In 2006, phone hacking, the unauthorized interception of voice messages on mobile devices, gained widespread attention when the former royal editor of Rupert Murdoch's News of the World (NoW) tabloid and a private investigator were apprehended.
Prince Harry's claims alongside actor Hugh Grant, against NGN were countered by NGN which is part of Rupert Murdoch's global media conglomerate. This was done in an appeal to the High Court in London by NGN to dismiss the lawsuits, arguing that they were too late to be heard.
However, Judge Timothy Fancourt has ruled that some of the claims will proceed to trial, set to begin in January 2024. In his 19-point summary, Fancourt stated that NGN succeeded partially in their application regarding time limitations, but failed on the remaining aspects.
The judge decided the prince "has a realistically arguable case at trial" over claims the tabloid unlawfully sourced "confidential information from third parties" in part through private investigators.
Judge Fancourt noted that his judgment did not determine whether the claims were brought within the applicable time limit, only that it was unclear at this point if they were issued too late. However, he sided with NGN regarding phone hacking allegations dating back to the 2000s, ruling that a six-year limitation period had lapsed before Prince Harry filed his claim in 2019.
As the younger son of King Charles III, Prince Harry has had a tumultuous history with the media. This tension reached new heights after he and his American wife Meghan stepped away from their royal duties in early 2020. Since then, they have taken legal action against several British newspaper publishers, citing violations of privacy, copyright infringement, and libel.
Last month, Prince Harry accused Mirror Group Newspapers of engaging in "industrial scale" phone hacking, making him the first member of the British royal family to testify in court in over a century. The judge has yet to render a verdict in that lawsuit.
Also Read : 'Selena Gomez and Francia Raisa: A Comprehensive Look at the Feud Rumors'