Nickname revealed! Patrick Mahomes's baby boy is Bronze!
Nickname revealed! Patrick Mahomes's baby boy is Bronze!
Published on December 01, 2022 22:28 PM by Anthony Christian
Earlier this week, Patrick Mahomes and his wife Brittany Mahomes had a newborn baby boy named Patrick Lavon Mahomes III, with the nickname Bronze. Jackson Mahomes, Patrick's little brother, is the reason for the nickname. Patrick said, "My brother, whenever we were trying to find something new that was a little unique and different, Jackson said, What about Bronze? It fits perfectly with Sterling'. 'So we went with that.
A unique name!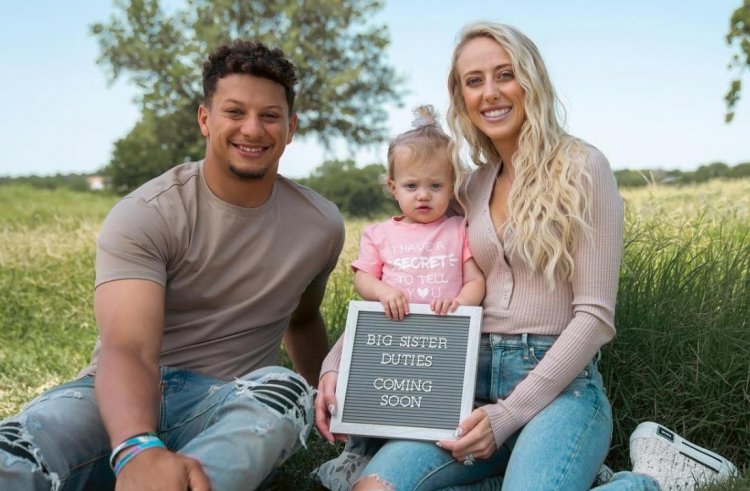 (Image Credits: aceshowbiz)
Patrick noticed that the title was not so similar to big sister Sterling. Sterling is the couple's first baby, as they welcomed her in February 2021. The fact is that it gives his son a unique moniker.
Patrick added, 'It works well where Sterling and Bronze can have that connection moving forward. After welcoming a new teammate to the family, Patrick said, 'It's an awesome feeling as we bring a son to the family, and everything went great and smooth.
Bronze arrival!
On November 28, Bronze arrived. The couple shared on Instagram profiles on that same day as the little one can be seen in a onesie on top of a blanket. He arrived eight months after Patrick and Brittany wed in a Lavish Hawaii ceremony in March.
On November 22, they announced they were expanding their family with a new one by sharing a snap of their maternity shoot along with their daughter and added "big sister duties coming soon. Finally, 'The sweet boy is here with a shiny nickname, Bronze, to match his sister'. The reason behind the nickname of the baby boy 'Bronze' is 'pure gold.
Also Read: The duo is on track! Simu Liu, along with his special one!