Muggsy Bogues' Networth
Muggsy Bogues' Networth
Updated on November 10, 2022 14:28 PM by Michael Davis
Muggsy Bogues is a retired American basketball player, most well known as being "the shortest guy" in the NBA. Muggsy Bogues has a net worth of $14 million. Bogues was the shortest player to ever play in the NBA, measuring 5 ft 3 in. By comparison, the average height of an NBA player is 6 ft 7 in.
Muggsy Boguese's career in the NBA lasted for 14 seasons, during which he played as a point guard for four teams. For ten of those seasons, he played with the Charlotte Hornets, the most well-known period of his career. He also played for the Washington Bullets, Golden State Warriors, and Toronto Raptors.
Muggsy Bogues' Career Earnings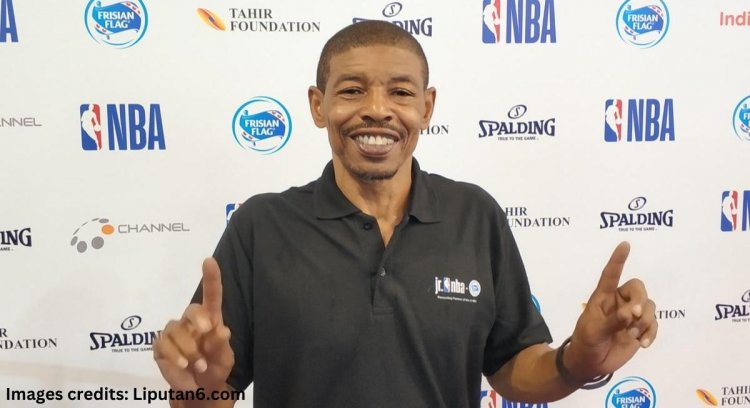 Muggsy Bogues earned around $18 million in salary alone during his career. After adjusting for inflation, that's the same as around $34 million in today's dollars. Muggsy earned several million more from endorsements.
Muggsy Bogues' Early Life
Muggsy Bogues was born Tyronne Curtis Bogues in Baltimore, Maryland, on January 9, 1965. He was the youngest of 4 children. He grew up in the Lafayette Court housing projects, where he experienced a less-than-stellar childhood. At age 5, he was hospitalized after being struck by stray buckshot on the street. At 12, his father committed armed robbery and was sentenced to twenty years. His brother, Chuckie, had also begun using hard drugs.
Muggsy Bogues' Relationships
Bogues had a daughter, Tyisha, when he was 17 years old. He met his first wife, Kim, at a Dunbar High School alum game in 1984. They married in 1989, having a daughter, Brittney, in 1987, and then had a son, Ty, after their marriage in 1991. They divorced in 1997. However, they remarried in 2015.
Also Read: Nile Niami's Networth
Muggsy Bogues' NBA Career
In the 1987 United States Basketball League draft, Bogues was chosen second overall by the Rhode Island Gulls. Muggsy had only played for one league season, averaging 22.2 points and 8.4 assists per game. However, an ankle injury eventually ended his season in the league.
In the 1987 NBA draft, Bogues had been selected 12th overall by the Washington Bullets. This draft full of talented athletes were David Robinson, Scottie Pippen, and Kevin Johnson. On November 6, 1987, in Omni Coliseum, Muggsy Bogues made his NBA debut against the Atlanta Hawks. He led the team in assists.
In the 1988 NBA expansion draft the following season, Muggsy was left unprotected and swiped up by the Charlotte Hornets. It was reported by the Washington Post that Bogues had no problem with the Washington Bullets leaving him unprotected in the draft and that he was excited to play with the Hornets. He would go on to play ten seasons with the team, spending most of his time as a starter and eventually becoming one of the top players of the Hornets.
Bogues managed to turn the Charlotte Hornets into a serious contender, having previously been a mediocre NBA team at best. He led the team to the playoffs three times, making it very popular among basketball fans. In 1995, after playing for six seasons, he underwent arthroscopic surgery on his left knee, which placed him on the injured list three separate times from 1995-1996. In the end, he finished the season with only 14 points in 6 games and missed 17 games the following season.
The team's relationship with Bogues went downhill after the surgery, eventually leading to Muggsy being traded to the Golden State Warriors on November 7. From 1999-2000, Bogues played 80 games during the season. However, because of his chronic knee injury, he only played in 3 games during the 2000-2001 season. He played his last game on January 27, 2001. He was traded for Chris Childs and a 2002 first-round draft pick on February 22, 2001.
Bogues ranked 12th all-time in assists and 13th all-time in assists per game in NBA history at the end of his last season.
Muggsy Bogues' TV and Film Appearances
Bogues appeared in the film "Space Jam" along with other famous NBA players and appeared on various shows such as "Curb your Enthusiasm," "Saturday Night Live," and "Eddie."
FAQ'S
Q: How old was Muggsy Bogues when he got shot?
A: Muggsy Bogues is 5 years old when he got shot.
Q: Is Muggsy Bogues a Hall of Famer?
A: In 2001, he was inducted into the Wake Forest Sports Hall of Fame.
Q: What did MJ say to Muggsy?
A: The 57-year-old then decided to talk about how Jordan loved to mess with him. Muggsy also shed some light on the infamous story about MJ calling him a "midget" (h/t NBA Reddit): "MJ, he always liked to f–k with me," Bogues said.
Q: Did Muggsy Bogues ever make an All-Star game?
A: Because of his improbable journey to the league, Bogues has always been a fan favorite. He was a regular starter during his career but was never named an All-Star.
Q: How high was Muggsy Bogues's vertical jump?
A: Muggsy Bogues jumps vertically around 44 Inches.