Idaho murder suspect declines Pennsylvania's request for extradition
Idaho murder suspect declines Pennsylvania's request for extradition
Published on January 05, 2023 02:22 AM by Ava Sara
The suspect in the November murders of four University of Idaho students renounced extradition to Idaho in order to stand trial for murder there.
Armed law enforcement officers brought Bryan Kohberger to the back of the courthouse after he arrived at the Monroe County Courthouse in Pennsylvania on Tuesday in a prison transport van while being restrained and sporting a prison uniform.
Kohberger's father, who was present in the courtroom, nodded his head "no" when the judge asked if he had any mental health issues that would prevent him from waiving his extradition. While still wearing shackles around his wrist, the defendant submitted the waiver at the defence table.
The only thing the Commonwealth had to prove, according to Monroe County Chief Public Defender LaBar, was that his client resembles or is the person named on the arrest warrant and that he was there during the offenses.
Kohberger avoided replying to questions from reporters as he was escorted inside.As the officers escorted him into the courtroom, he made eye contact with and nodded to his family members
Kohberger's mother threw herself into his sister's arms and they both sobbed openly when the court told him he would be prosecuted with murder when he returned to Idaho. There were also Kohberger's father and a representative from the public defender's office.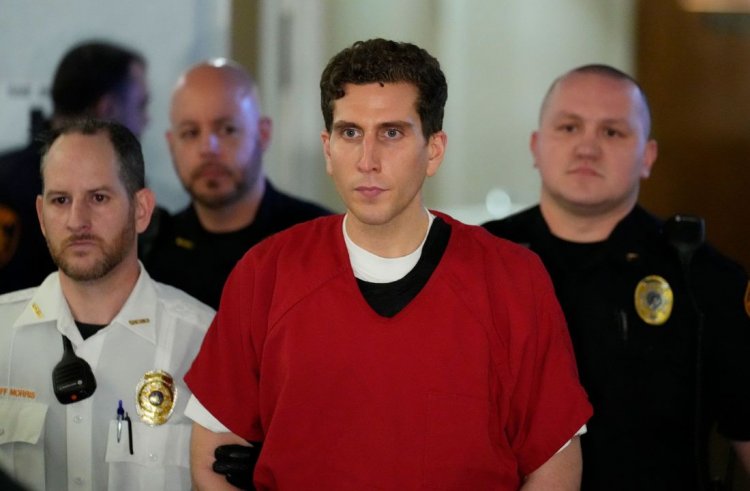 (Image Credits: CNN)
Kohberger will be sent to Idaho, according to state police, although no date has been given.
Robert Evanchick, the commissioner of the Pennsylvania State Police, remarked at a press conference, "My heart goes out to the families of the victims, their friends, the city of Moscow and the University of Idaho. ""Words cannot take away the anguish caused by the loss of a child. Their young lives ended far too quickly.
According to a source acquainted with Kohberger's status at the facility, the warden of the Monroe County Correctional Facility told officials that Kohberger has been a "model prisoner" who hasn't been a problem while he's been in detention.
Kohberger, who is being confined in a cell under constant officer surveillance, is a maximum status prisoner.
The source claims that he has "following directions" and stayed "silent."
Kohberger was apprehended in Pennsylvania on Friday, nearly seven weeks after Kaylee Goncalves, 21, Madison Mogen, 21, Xana Kernodle, 20, and Ethan Chapin, 20, were found dead in a Moscow, Idaho, off-campus home on November 13.
Kohberger was "a little bit stunned," LaBar told CNN a day after his client's detention. Kohberger is presumed innocent until and unless proven guilty, claims LaBar. On Tuesday's "Today" show on NBC, LaBar said that he "thinks he's going to be exonerated."
Kohberger is "in a peaceful manner," "quite easy to talk to," and aware of the proceedings, including what to anticipate with regard to his transfer to Idaho and what to expect once he gets there, according to LaBar.
The 28-year-old suspect recently completed his first semester of study for his PhD in criminal justice at Washington State University's Pullman campus, which is located about 15 minutes west of Moscow.
For the holidays, he and his father travelled back to Pennsylvania, according to LaBar, who spoke to CNN on Saturday. Around December 17, the two travellers landed in the Commonwealth.
LaBar said that the white Hyundai Elantra that police were looking for in relation to the killings had been located at Kohberger's parents' house.
Kohberger was pulled over twice by law officers on December 15 while travelling through Indiana for following too closely in the Elantra, according to officials Tuesday. At the second stop, a state police officer issued Kohberger with a warning before letting him go.
As per the Indiana State Police, "At the time of this halt, there was no evidence on a suspect for the offense in Idaho, to include exploring facts or any relatable message connected to the state or number of the white Hyundai Elantra's license plate." The Hancock County Sheriff's Office, who had initially detained him, stated as much in a press release.
According to two law enforcement sources briefed on the case, investigators narrowed in on Kohberger as a suspect after tracing ownership of the Elantra that had been observed in the vicinity of the deaths to him. Additionally, according to the two sources, his DNA was matched to genetic material found at the house where the students were killed.
According to the two law enforcement sources, an FBI surveillance team tracked Kohberger for four days prior to his arrest while law enforcement and prosecutors worked to create enough probable cause to get a warrant.
Aside from the DNA and the car, little is known about the killings in the public, such as whether Kohberger knew the victims or a possible motive. The probable-cause document, which would contain specifics to support the defendant's arrest, is kept under seal until the suspect appears in an Idaho court.
Kohberger waived extradition, according to Monroe County's first assistant district attorney Michael Mancuso, on Tuesday because he wanted to review the affidavit.
At a press conference, Mancuso stated, "I strongly believe that one of the key reasons the defendant sought to waive extradition and rush his return back to Idaho was the need to explore the content in those documents."
He completed his master's degree in criminal justice at DeSales Campus in Pennsylvania this year after earning his bachelor's degree there in 2020, according to a campus official.
In a Reddit post that was removed after his arrest, Bryan Kohberger, a student researcher at DeSales University, called for participants for a study "to analyse how emotions and psychological aspects influence decision-making when committing a crime."
This study primarily seeks to understand the backdrop of your most recent criminal offence, focusing on your thoughts and feelings during your encounter, as per the post.
Following the arrest, James Fry, the head of the Moscow Police Department, said that the intricate and extensive case was still being looked at.
Fry claims that detectives are still searching for specific pieces of information, such as the allegedly used fixed-blade knife.
He said, "Relax, the task is not over. We eventually got to a clear picture. This just started.
Mancuso said his department is ready to assist the Idaho investigators.
Also Read: The first openly transgender person was executed for a murder committed in 2003 in Missouri