Alexa Bliss' WWE Absence May Have Another Explanation
Alexa Bliss' WWE Absence May Have Another Explanation
Updated on March 23, 2023 12:02 PM by Andrew Koschiev
The Road to Wrestle Mania trip was missed by Alexa Bliss after she lost to Bianca Belair at the 2023 Royal Rumble. Some stars take a break from WWE after a long run, so she has taken a break after losing to Belair. She has not been on RAW since she last challenged for the RAW Women's Championship, leading many to speculate there are no creative plans for her. However, what is going on? It was revealed that Alexa Bliss had to have some spots removed from the skin of her face, revealing that she had had a health scare. After revealing that she had some harmful patches on her face earlier in her career, the former SmackDown and RAW Women's Champion explained that the patches resulted from tanning beds.
An issue with Bliss's health
In addition to dealing with the return of Bray Wyatt, Bliss has also been dealing with lingering issues surrounding him. After all, it has been over a year since the former WWE champion defeated him in a match for the first time since his return. Bliss maintained that she was responsible for her actions, as opposed to Wyatt or Uncle Howdy, when Bianca Belair and she were feuding. When Uncle Howdy continued his mind games, Bliss was shown the last time in a WWE ring.
A top female performer in WWE is Alexa Bliss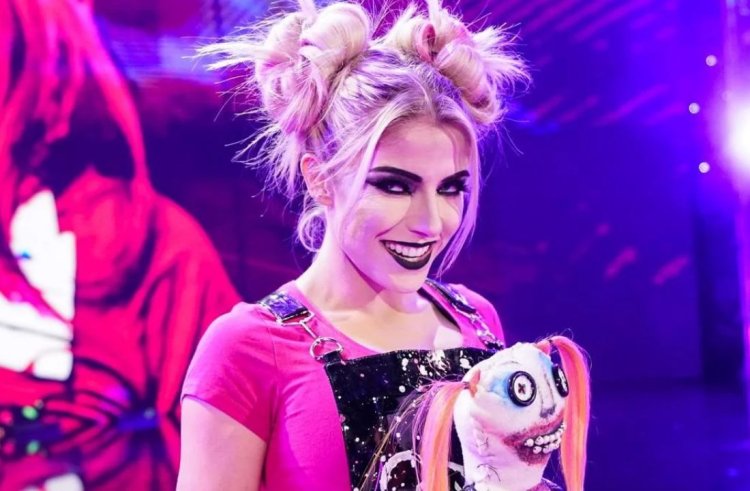 (Image Credits: WrestleTalk)
Although Becky Lynch, Charlotte Flair, and Bianca Belair have taken over the title scene in recent months, Alexa Bliss has always been an important team member. Besides giving promos, Alexa Bliss was also a dark, twisted female ally of the Fiend, demonstrating her versatility. In addition to winning the WWE Women's Tag Team titles with Asuka and Nikki Cross, Bliss has been a heel and a babyface with success. Several spots on the Wrestle Mania card have opened recently, including a "Showcase" match featuring four women's teams. Bliss could have taken part, but her health came first. While Alexa Bliss may have been away due to a surgical procedure, she managed to stay busy. She is expected to return on RAW sometime after Wrestle Mania.
Alexa Bliss - WWE team champion
A bright pink axolotl costume adorned Alexa Bliss, one of Fox's Masked Singers this season. Alexa performed outside the wrestling ring while rocking the stage. If Asuka wins the RAW Women's title, she'll have to find new opponents after Wrestle Mania 39. After 2023, her contract expires, and Alexa Bliss is likely to seek opportunities outside of WWE as she was a tag team champion with Bliss.
Also Read:
Ronda Rousey Suspended From WWE After Attacking Official At SummerSlam
RAW Review: A Top faction member will receive a significant singles push for WrestleMania 39 as the 15-time Champion starts to become a babyface?