The great concept is here! Diamond-inspired Superyacht with an amazing waterfall!
The great concept is here! Diamond-inspired Superyacht with an amazing waterfall!
Updated on August 05, 2022 22:21 PM by Anthony Christian
A Superyacht is a huge, luxurious, professionally crewed motor or sailing Yatch that ranges from 24 meters to more than 180 meters in length. It is designed to emphasize comfort, speed, or expedition capability. Based on the seasons, superyachts are found in the Mediterranean or the Caribbean.
The expectation of the Superyacht!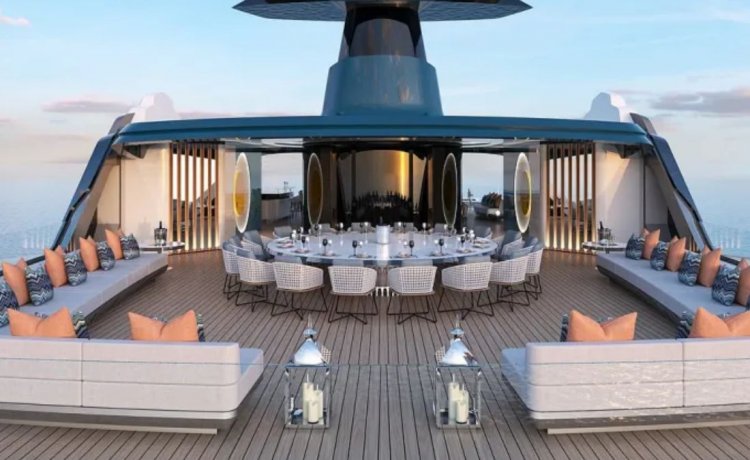 The new superyacht concept had an onboard cinema, helipad, and three integrated pools. This was designed by Italian studio Gabriele Teruzzi and Design. It's about a 110-meter vessel that showcases its elegant, sharp lines in the form of a diamond shape with a spectacular side window glass design connecting with a deck. Decks in a 40-meter superyacht have cabins for 10-12 guests. It has a lower deck, Main deck, Upper deck, and sun deck.
Sparkling view!
The Superyacht is fitted with a long foredeck that holds a helipad. The glass positions of the vessels are positioned as they reflect light that gives us a wonderful view. For entertaining guests, there is a private lounge with an L-shaped sofa.
Looks impressive!
The main deck of the Superyacht has eight VIP rooms with a gym, a piano, and a lounge area near the window side. A former royal residence in southern Italy based on the Royal Palace of Caserta created by the Bourbon King Charles III features a luxurious beach club with stand-out features. The spacious area had three swimming pools with an amazing waterfall.
Unparalleled view!
The design team was fantastic as they split the vessels and designed strategically to offer passengers an unparalleled view of the sea. It was surrounded by large panoramic windows with a rain effect and got lightning at night.
It also contains a 3500 square foot sun deck with a lounge area and a dining space with a round table. Much of the decks had bathroom facilities, walk-in wardrobes, and a salt wall. The highlight is that you can see the aquarium installed in the ceiling over the bed.
Full of entertainment!
In the bilge deck, there is added entertainment in the form of cinema, giving you the best possible onboard view. The hull is fitted with two shell doors open in two separate terraces measuring 30 square meters.