Y&R detailed recap of December 22
Y&R detailed recap of December 22
Updated on December 24, 2022 13:05 PM by Michael Davis
Major Highlights
Sally and Nick grow close when Adam takes Connor, Chelsea, and Johnny for a Holiday meal.
Victoria is tense about her bond with her son Billy Abbot, and he tries to calm her.
Daniel visits Summer and is later surprised by his father, Danny Romalotti.
Summer, Kyle, and Harrison surprise Diane Jenkins at the Cabin when Jack makes a filthy deal with Jeremy.
Christmas Spoil
(Image Credits: Soap Hub)
Nick and Sally go out for a coffee when Nick admits he is busy and doesn't think much about answering Christian's questions. They were Santa's questions. Sally adds that it's the inquisition by Santa Nick says it is just magical.
Sally is all praise for Nick for his parenting skills. She even asks him about Faith Newman and their equation as she is holidaying. He admits missing her. Sally adds that their children had an age gap, and Nick says being a father is the best thing ever.
Sally admits she has never met anyone like Nick who enjoys parenting. She had a harsh childhood. She never had friends, only her sister coco. An abandoned childhood of Sally receives compassion from Nick. She spoke about the terms of growing up in a women-only fam.
As they go down memory lane, Nick asks her about her favorite Christmas Present. The two tell each other they don't have anything in the gifts they have for each other. It starts to snow, and they kiss, but they leave because Sally has to check on herself.
Also Read:Y&R's Susan Walters loses a beloved pet just before Christmas
Holiday Fun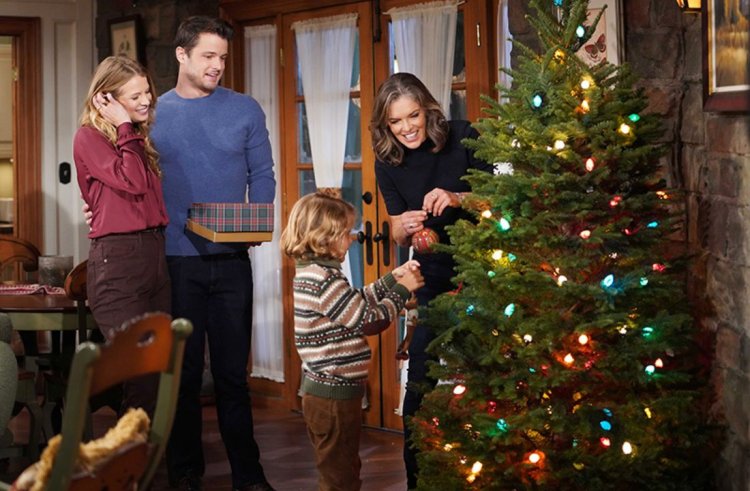 (Image Credits: TV Season & Spoilers)
Johnny and Billy arrive while Chelsea is exchanging Christmas presents. Johnny wished Connor and the two enjoyed a great time together.
Adam shows up but is furious at seeing Billy there. To which Billy said Chelsea got gifts for Johnny and Adam Leaves.
He was there to take Chelsea and Connor for a meal, and Connor asked if it was okay if Johnny joined. Chelsea invites both, and Billy leaves.
Billy goes down to Crimson lights. Victoria is upset that Billy let Johnny go with Chelsea and Connor. It is hard to accept that Chelsea and Connor are a part of Johnny's family.
Billy points out that he knew Victoria adopted him, and she has tensed that the relationship between the father and son would change. Billy says they should support him in whatever he does, and Victoria agrees.
Also Read:The Young And The Restless Recaps: Adam Reached To Victor
Anger Game strong
Jeremy is fuming with anger and accuses Jack of leading him on the goose. Jack says he lost.
Jeremy doesn't believe Jack is unaware of Diane. But he tells him she has covered and hidden everything.
Jack says he will Cover Diane's debt. Jeremy denies it, and Jack doubles the offer and makes it $ 1 million. The two agree on the deal, and Jack says he will give it to him after Christmas once the deal is done.