Netflix's Narcos and all its confidential secrets revealed
Netflix's Narcos and all its confidential secrets revealed
Updated on September 03, 2022 18:59 PM by Sally Harbor
Netflix has become famous for many of its shows, but the show Narcos has taken its popularity to another level. The series was so loved for its first season that the makers had to bring out the second season without fail. The first season of it had managed to garner a viewership of 3.4 million, which confirmed that another season would be out.
Narcos revolves around the crazy surroundings of Colombian Cocaine prodigy Pablo Escobar.
The drug lord originally was also a family man and a Colombian politician before he died due to the bullets fired as he ran for freedom with his bodyguard on the roofs of his hometown Los Olivos. A true incident inspired the show, and Pablo Escobar also existed in real life, which was portrayed quite well by Netflix.
In the show's first season, the viewers were given a detailed look into how scary his life looked. In contrast, in the second season, a dramatic view of the slow decline of Pablo's popularity and his eventual death was portrayed.
Also read: Johnny Depp To Star In Netflix Reboot Of The Addams Family?
While filming the second season the entire cast and crew were sad to say goodbye to Wagner Moura who played the role of the cocaine king s tragic and boisterous character as the obvious final scene was his death. But there is still so much more to learn about Narcos than meets the eye.
The writers of the show had done so much research on the project but not only that they also expanded in some areas to craft what has become one of Netflix's most binge-worthy shows.
Pablo Escobar's Original son dislikes the show and its concept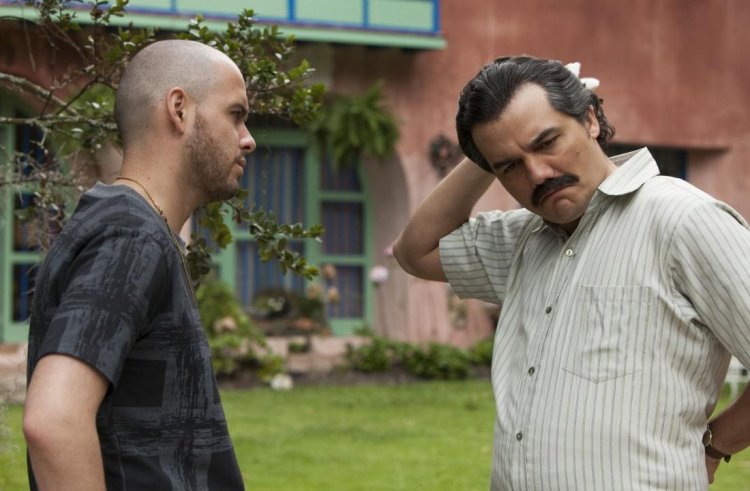 The original drug god, Pablo Escobar's son Juan Pablo Escobar or now known as Sebastian Marroquin, has been publicly trying to end animosity that may still exist after the Colombian drug wars due to Pablo Escobar's power.
He changed his name and also published a book about his father's life entitled Sins of My Father. Despite the show doing well, Marroquin has been quite vocal to many publications about his distaste for the show and the certain liberties that Netflix has taken with the truth.
Also read: The Best New TV Shows and Movies on Netflix This Weekend
While the first season caught a viewership of 3.2 million Marroquin has some logic behind him wanting to set things straight. He claims that his father never sold drugs to Europe and nor did he ever kill Colombian fighter Ivan Marino Ospino. Although it's OK to set facts straight, writers for the show had responded to the claims and revealed that the show was always meant to be a dramatization of the truth.
The drug dealer's son Marroquin is an architect and lives in Buenos Aires with his wife and daughter.
Narcos was originally supposed to be a movie
Yes, you heard it right Narcos which became immensely popular as a show was originally supposed to be a movie. The writers of the American Crime show had researched hard on Pablo Escobar's life before they started to begin with their work.
They researched so deeply in fact that they developed immense backstories for their characters along with mind-boggling twists and turns that ned much longer than a movie. So it was sure that the research would be turned into a web series with numerous seasons.
Also read: As King Louis XV, Netflix is betting on Johnny Depp's return to film
After a positive response for the first two seasons of the show, Netflix took notice and has signed Narcos on for two more seasons. That means twenty more of the award-nominated show episodes will eventually grace our screens and make our days.
The show originally explores the cocaine trafficking-filled life of Pablo Escobar but the latest season featured him getting killed which has made us quite very curious to see where the next two seasons will take us.
The show convinced Wagner Moura who played the role of the drug god that drugs should be legalized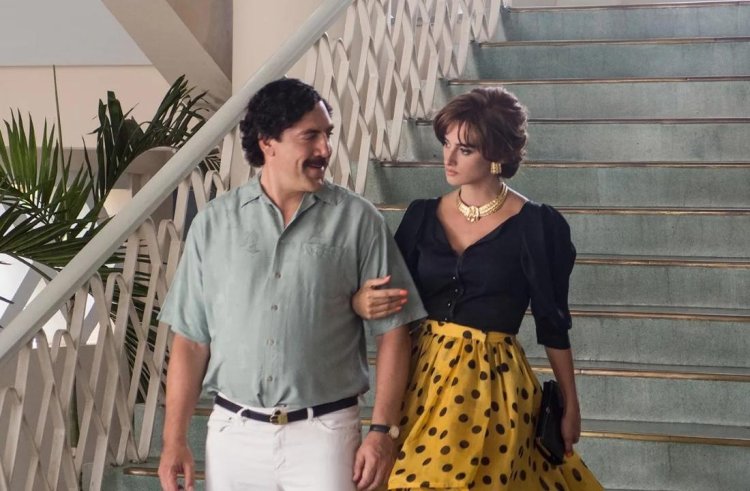 Wagner Moura plays the role of Pablo Escobar in the show and he has always been a believer in the legalization of drugs, and the actor recently also revealed that filming Narcos has solidified that belief of his.
Also read: Fans of Stranger Things, rejoice. Millie Bobby Brown will star in an upcoming Netflix sci-fi movie
He grew up in the country of Brazil which is another South American country that has been filled with the drug trade. In an interview with a magazine, Moura stated quite passionately "The War on Drugs is a big flop," he continued, heatedly.
"Especially for those of us who live in countries that export and produce drugs. Those are the places where those wars are taking place, and still happening. The number of people who are being killed in that war, I'm sure it's bigger than the amount number of people who are dying of overdoses."
Becoming more heavily identified with the narco lifestyle while filming the series made Moura feel that he was right in believing in drug legalization all these years and aligning with those of major drug reform advocates across the world.
The death scene was filmed where Pablo Escobar originally died
When it comes to original content, Netflix comes first. Though the most fictional liberties were taken for the sake of television the death scene of Colombian drug lord Pablo Escobar, was filmed on the very same rooftops where he was shot while fleeing.
Also read: According to Netflix's CEO, the company is ready to offer lower prices with ads as it loses subscribers.
The crew was quite determined to replicate the scene as aesthetically and accurately as possible since the real siege was so highly publicized and so familiar to so many people. The official reports claim that he was killed while caught in the crossfire of Colombian police bullets but there is much speculation on the same.
Also read: 'Narcos' Producer José Padilha Sues Fellow EP Eric Newman Over Show Profits
Escobar had once told his brother-in-law that he would shoot himself just above his ear if he was ever in a place where he knew that he would die at someone else's hand. The bullet that made the fatal blow was just above his ear. The truth remains a mystery as we have no way to know who made the fatal shot to the kingpin.
Wagner Moura wore a fake belly to replicate Pablo Escobar's big stomach
If take a closer look at Wagner Moura you would recognize that he is not that fat of a person. But to scene replicate Pablo Escobar as much as possible and to get merged into his character fully, the Brazilian actor gained 40 lbs to play the Colombian drug lord Pablo Escobar, and also wore wear a fake stomach.
Escobar was a heavy eater who would dispatch any visible food item to his stomach and as a result, he ended up developing a huge belly later in his life.
Also read: Mexico's Top Female Narco Wants Cash For a Netflix Show Based On Her Life
Despite gaining a huge bulk of weight, Moura still could not manage to reach the size of the real Escobar's abdomen, so he wore a fake stomach. Interestingly, while appearing briefly in the spinoff series of the show Narcos: M Mexico, Moura was back to his slim body but luckily his fans never complained about it as they knew his struggles.
The lyrics theme song of the show are imagined as those of his Mom's
When it comes to theme songs, not many TV shows can boast of having a theme song that is as sweet as that of Narcos. The theme song of the show is called "Tuyo" in other words Yours. It was composed by Brazilian singer Rodrigo Amante who is best known as the former lead singer of the band based in Rio De Janeiro, called Los Hermanos.
Also read: Netflix unveils teaser for new Korean crime thriller series 'Narco-Saints'
The lyrics of the song are quite interesting too as they sound like that of a love song. There are lines like "You're the air that I breathe." So, how is this relevant to the drug trade? According to Amante, he imagined himself as Escobar's mother. The song is thus, said to be words from Escobar's mom telling him how much she loves him.
The show is not only a Netflix rather was made in partnership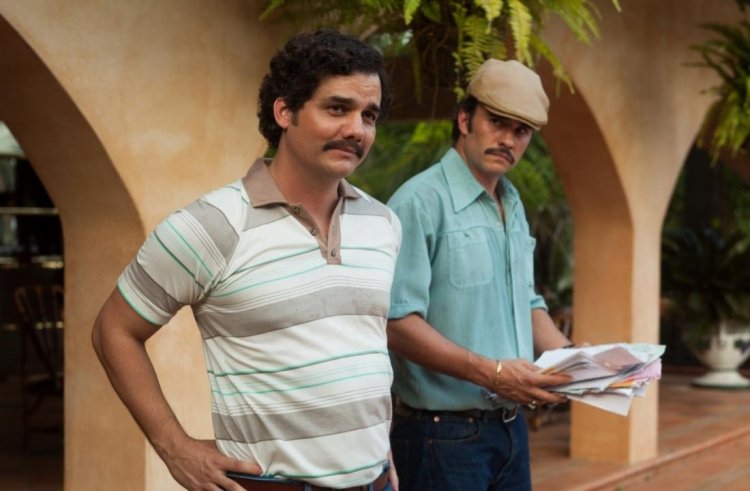 Netflix might take all the credit but they made the show through a partnership with the American branch of French studio Gaumont International Television. Later on, Univision was also given distribution rights for the films.
Netflix and Univision both later partnered in making another similar Spanish show called El Chapo. Interestingly, the Mexican drug lord El Chapo is also in the spinoff Narcos: Mexico as a supporting character who is a drug trafficker on the rise. It would be interesting to see whether they'll eventually make him the central figure of the spinoff too.