Is Pitch Perfect on Netflix?
Is Pitch Perfect on Netflix?
Published on November 16, 2022 11:36 AM by Andrew Koschiev
Comedy relieves stress, which is how comedy genres work perfectly for the audience. That makes them roll on their seats with laughter, and one such is the American musical comedy-drama Pitch Perfect, a 2012 movie directed by Jason Moore and written by Kay Cannon.
With the success of Pitch Perfect (2012) and the movie gaining positive reviews, the movie followed the sequels.
Pitch Perfect 2 (2015)
Pitch Perfect 3 (2017)
Pitch Perfect Storyline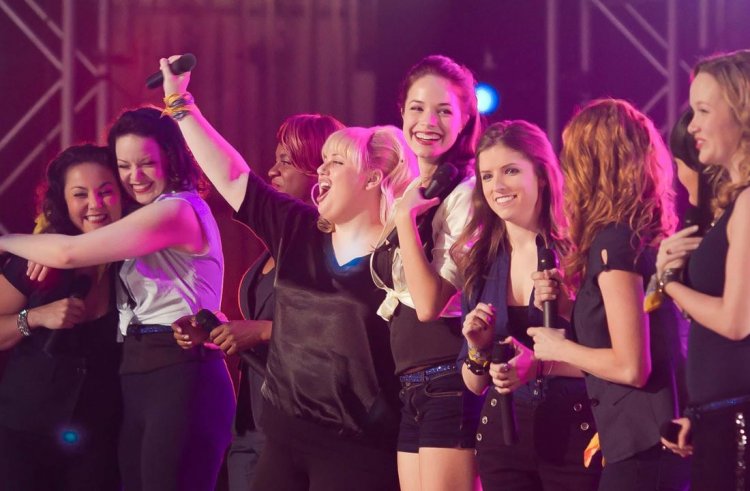 (Image Credits: Peacock)
College student Beca (Anna Kendrick) is aware that she does not want to be a member of a clique, but upon arriving at her new school, she quickly becomes one.
Beca discovers that the only thing they have in common is how well they can sing together after being thrown together with cruel women, sweet gals, and just plain crazy gals.
To win collegiate music contests, she pushes the group's female members beyond their comfort zone of conventional arrangements and into a realm of incredible harmonic combinations.
Release Date: October 5, 2012
Budget: Pitch Perfect was made with a budget of $17 million and grossed the box office by $115.4 million.
Ratings:
IMDB: 7.1/10
Rotten Tomatoes: 8.1/10
Common sense media: 8/10
Pitch Perfect cast
Anna Kendrick as Beca Mitchell
• Skylar Astin as Jesse Swanson
• Rebel Wilson as Patricia
• Adam DeVine as Bumper Allen
• Anna Camp as Aubrey Posen
• Brittany Snow as Chloe Beale
• Alexis Knapp as Stacie Conrad
• Ester Dean as Cynthia Rose Adams
• Hana Mae Lee as Lilly Onakuramara
• Ben Platt as Benji Applebaum
• Utkarsh Ambudkar as Donald, Bumper's right-hand man,
• John Michael Higgins as John Smith
• Elizabeth Banks as Gail Abernathy-McKadden
Awards
The movie won Motion Picture Sound Editors under Best Music in a Musical Feature Film category.
Won two MTV Movie awards under Best Breakthrough Performance and Best Musical Moment.
Pitch Perfect won Teen Choice Awards under the following categories.
Choice Movie Actress: Comedy
Choice Movie Actor: Comedy
Choice Movie: Villain
Also won American Music Awards under Favorite Soundtrack and bagged several nominations.
Pitch Perfect 2 (2015)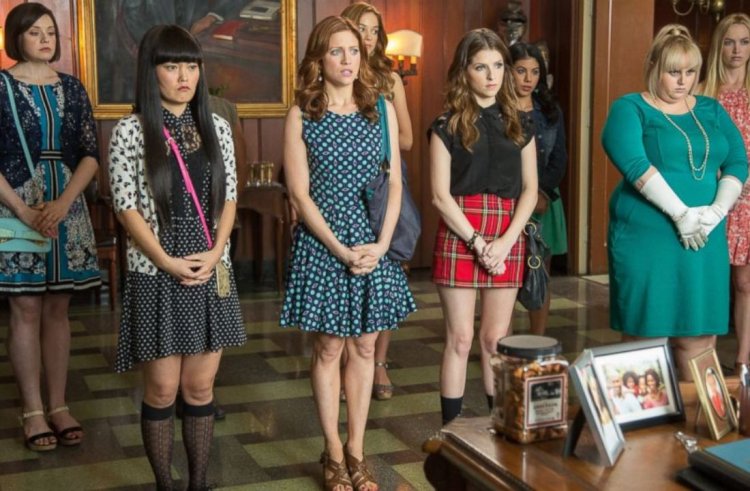 (Image Credits: ABC News)
The Barden Bellas (Anna Kendrick and Rebel Wilson), the first all-female group to win a national championship, made history three years ago.
Everything appears to be going smoothly until a disastrous Lincoln Center performance for the president causes a controversy that removes them from their performing roles, resulting in internal conflict.
The ladies must get their act together for their only chance at redemption, with the global championships just around the corner in Copenhagen, Denmark.
Release Date: May 15, 2015
Budget: The movie was made with a $29-31 million budget and grossed the box office by $287.5 million.
Ratings:
IMDB: 6.4/10
Rotten Tomatoes: 6.5/10
Common Sense Media: 6/10
Pitch Perfect 3 (2017)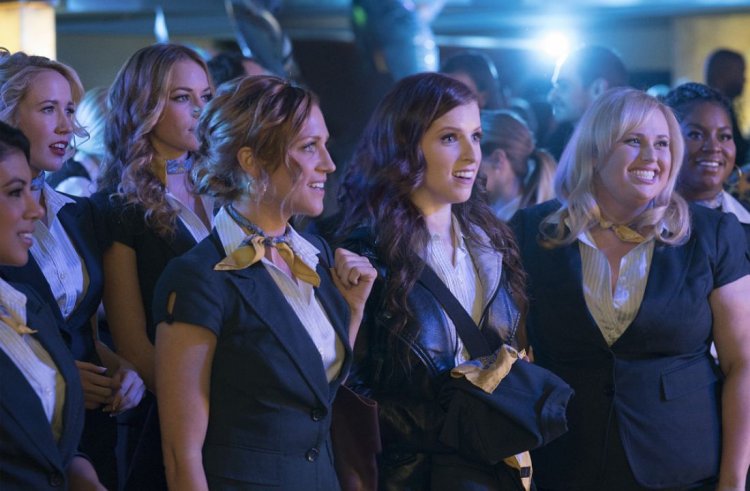 (Image Credits: Program TV)
After the highs of winning the global championships, the Bellas are torn apart and learn that singing with your lips doesn't provide many career opportunities. But when they have the chance to get back together for a USO tour abroad, this gang of wonderful geeks will do it one final time to produce some music and some questionable choices.
Release Date: December 22, 2017
Budget: The movie was made with a budget of $45 million and grossed the box office by $185.4 million.
Ratings:
IMDB: 5.8/10
Rotten Tomatoes: 2.8/10
Common sense media: 2/5
Is Pitch Perfect on Netflix?
No, Pitch Perfect and its sequel is unavailable on Netflix due to a license issue.
Where can we watch Pitch Perfect?
If you subscribe to HBO Max, you're lucky since Pitch Perfect can stream there. Of course, you can watch the intense rivalry between a cappella groups on either Hulu or Amazon Prime Video, provided you have an HBO extension through your membership to either of those streaming services.
The future sequels, however, cannot be streamed. To continue the narrative of Beca and the Bellas, you can only purchase the second and third movies for $13.99 each or rent them via Amazon Prime Video for $3.99 each.
But Netflix Subscribers do not worry much; we have this savior called VPN; we can easily connect to other regions where the Pitch Perfect movie is available, and we can enjoy watching it.
What VPN to use?
With ExpressVPN, changing your region only takes a few clicks. It features worldwide server optimizations. By switching your region, you may access ten times more Netflix material. Netflix offers material from all nations.
Pitch Perfect 1 and 2 are available in Brazil, whereas Pitch perfect 3 is available in Italy.
Steps to connect to the VPN network:
After downloading ExpressVPN, take the following actions:
Step 1: Download a VPN first; ExpressVPN is the best option.
Step 2: Connect it to the Brazilian server to view Pitch Perfects 1 and 2.
Step 3: To view Pitch Perfect 3, link it to the Italian server.
Step 4: Open Netflix now
Step 5: Look up Pitch Perfect.
Step 6: To see a movie, click on it.
With these steps, enjoy watching Pitch Perfect and its sequels with your dear ones on Netflix.