Is Coda on Netflix
Is Coda on Netflix
Updated on November 11, 2022 17:48 PM by Michael Davis
The 2021 Comedy drama film CODA, written and directed by Sian Heder, portrays the experience of the life of deaf people and their dream to achieve. The drama made history at the Oscars 2022 by winning Best Picture at the 94th Academy awards.
CODA Storyline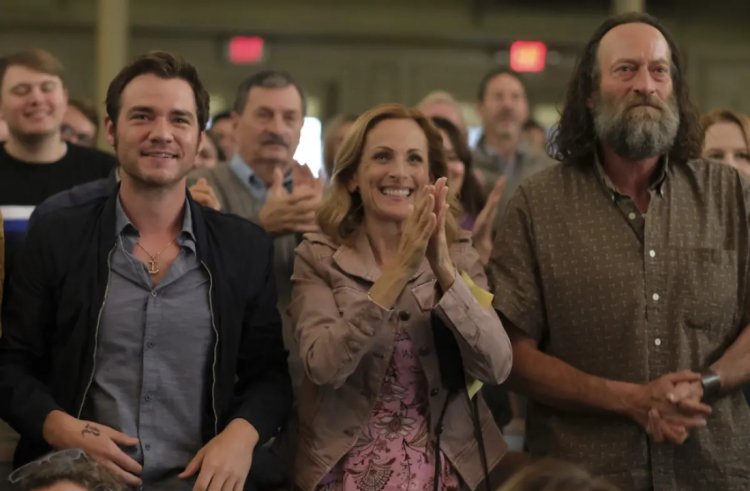 (Image Credits: Decider.com)
This CODA is a remake of a 2014-based French-Belgian film La Famille Bélier. The story moves Ruby Rossi, the sole hearing person in her family in Gloucester, Massachusetts; her parents, Frank and Jackie, and her elder brother, Leo, are all deaf. She supports the family's fishing operation and intends to work there full-time after graduating high school. Ruby randomly enrolls in the chorus at her school one day.
Mr. Villalobos, Ruby's music instructor, encourages her to sing. He gives her the task of singing a duet with the boy she likes, Miles. She tries to juggle the family business, duet practice with Miles, and music lessons with Mr. Villalobos. Without Ruby as their translator to the hearing world, her family struggles to maintain their company.
This places Ruby in a difficult situation if she is admitted to Boston's Berklee College of Music after her audition. She eventually has the backing of her parents and brother, who also urge her to attend college in Boston and employ a hearing person to work with them.
The deaf characters in the American version, who communicate via American Sign language, are portrayed by deaf actors.
Cast members
Emilia Jones as Ruby Rossi
Troy Kotsur as Frank Rossi, Ruby's father
Marlee Matlin as Jackie Rossi, Ruby's mother
Daniel Durant as Leo Rossi, Ruby's brother
Eugenio Derbez as Bernardo "Mr. V" Villalobos, the high school choir director.
Ferdia Walsh-Peelo as Miles, Ruby's love interest
Amy Forsyth as Gertie, Ruby's best friend
Kevin Chapman as Brady
Awards
The film won all three nominated awards for Best Picture, Best Supporting Actor, and Best Adapted Screenplay at the 94th Academy Awards.
CODA was nominated for Best Motion Picture and Supporting Actor at the 79th Golden Globe Awards.
CODA won Best Supporting Actor for Kotsur at the 75th British Academy Film Awards and Best Adapted Screenplay for Heder.
CODA won the Producers Guild of America Award for Best Theatrical Motion Picture at the 33rd Producers Guild America Awards.
CODA made history at the 28th Screen Actors Guild Awards, with Kotsur, Matlin, and Durant becoming the first deaf performers to win. Along with that were Jones, Derbez, and Walsh-Peelo, for Outstanding Performance by a Cast in a Motion Picture.
Release date: August 13, 2021
Ratings
IMDB: 8/10
Rotten Tomatoes: 9.4/10
Metacritic: 7.4/10
Critics Response
Response to the movie CODA was so overwhelming that the viewers and fans were taken aback by the empathy that the movie portrays that captured millions of fans with love over all the soundless characters that give insight into the experience of deafness. The comedy highlighted the movie much better, and critics congratulated the real deaf characters who starred in CODA.
Theatrical run
After winning the Oscars, Apple re-released CODA in UK theaters on April 8 for a short theatrical run. The move comes after a similar one in the US, where CODA had a brief theatrical run in more than 600 theaters on Friday, April 1.
CODA is available on Apple TV plus
(Image Credits: Los Angeles Times.com)
CODA is available on Apple TV plus subscription. It received acclaim after its premiere at the 2021 Sundance Film Festival, and Apple soon acquired the distribution rights for a festival record of $25 million last year. Since then, the movie has been marketed as an Apple original. Apple TV Plus is available in 107 countries around the world.
How to access Apple TV plus in unavailable countries
You may encounter geo-fenced limitations when attempting to stream CODA when traveling overseas or in one of the few nations without Apple TV Plus. But no matter where you go, you may access all the services you already pay for with the aid of a virtual private network (VPN).
The tests show ExpressVPN(opens in a new tab) is the best VPN. It is simple to use, provides fast internet, and can be quickly configured for streaming. Additionally, it functions on almost all platforms, starting with iOS and Android and incorporating streaming devices like the Apple TV and Amazon Fire TV Stick.
Stream release date: August 13, 2022.
How to subscribe
As a new subscriber, you can sign up for Apple TV Plus for £ 4.99 per month in the UK, which comes with a one-week free trial. Apple TV Plus is available on Apple devices, as well as Samsung, LG, Vizio, and Sony smart TVs; Roku devices; Amazon Fire TV; Google TV; PlayStation consoles; and Xbox consoles.
Is CODA available on Netflix?
As CODA is an original film of Apple, unfortunately, it is not available on Netflix or any other platforms. CODA will sadly not be re-released in UK theaters; hence, the only option to see the movie is with an Apple TV Plus subscription, as described above.
Other ways of watching CODA
CODA is not available on Blu-ray/DVD The film was featured on the British program Celebrity Gogglebox.