How to watch Dragon Ball Z on Netflix?
How to watch Dragon Ball Z on Netflix?
Updated on November 19, 2022 18:22 PM by Andrew Koschiev
Toei Animation produces the Japanese anime television series Dragon Ball Z. It is a part of the Dragon Ball media universe, a sequel to the 1986 Dragon Ball anime series, and an adaptation of the final 325 chapters of the Akira Toriyama-penned Dragon Ball manga series, which appeared in Weekly Shonen Jump from 1988 to 1995. From April 1989 until January 1996, the series ran on Fuji TV in Japan. It was then dubbed for international distribution in at least 81 countries.
Viz Media first published the manga chapters that make up the anime's plot under the Dragon Ball Z moniker due to the anime's popularity in the United States. Due to the popularity of the anime, a variety of media came up with the Dragon Ball franchise's material. Despite multiple adaptations and re-releases, including a remastered broadcast dubbed Dragon Ball Z Kai, Dragon Ball Z has managed to maintain its status as a cultural classic.
Two follow-up television series, Dragon Ball GT (1996–1997) and Dragon Ball Super were produced after Dragon Ball Z. (2015–2018).
Dragon Ball Z storyline
(Image Credits: PHONEKY)
Son Goku, the strongest warrior on the planet and defender of justice, is tasked with defending the Earth from the Saiyan Warriors who serve the ruthless space dictator Frieza. In the face of overwhelming odds, Goku is forced to work with his long-standing foe Piccolo to protect everyone he cares about from these brand-new, unforeseen dangers to humankind.
Ratings
IMDb: 8.8/10
Rotten Tomatoes: 7.5/10
Common Sense Media: 6/10
Dragon Ball Z voice-over artist
The longest and most thrilling bouts in Dragon Ball, as well as its stunning aesthetics. However, the franchise's diverse array of characters is largely responsible for its success. Some are entertaining, some are engaging, and some are just plain badass, so came the sequels.
Dragon Ball Z Season 1
The Goku saga is followed in the television show. The stories follow Goku as he discovers his Saiyan roots and face out against Raditz, Nappa, and Vegeta, three other Saiyans. They seek to recruit him and use him to wipe out all life on Earth.
Release Date: April 26, 1989
End date: February 7, 1990
Episodes: 35
Dragon Ball Z Season 2
One Dragon Ball will grant the wish of Gohan, Krillin, and Bulma. However, their two Namekian pals confess that they are not Namekians at all. At the same time, they seek the seventh Dragon Ball. They aren't even on Namek, in fact. Vegeta discovers that Frieza has traveled to Namek to collect the Dragon Balls in the meanwhile.
Release Date: March 14, 1990
End date: January 16, 1991
Episodes: 35
Dragon Ball Z Season 3
Gohan and Krillin take the unsecured Dragon Balls from Frieza's ship as the conflict between Goku and Captain Ginyu erupts.
Release Date: January 23, 1991
End date: September 11, 1991
Episodes: 33
Dragon Ball Z Season 4
This new season is separated into three distinct sagas, beginning with the reappearance of an evil familiar figure from the past as Garlic Junior seeks retribution, seizes the throne of Kamizama, and uses the dragon spheres to resurrect his father.
Release Date: September 18, 1991
End date: May 13, 1992
Episodes: 32
Dragon Ball Z Season 5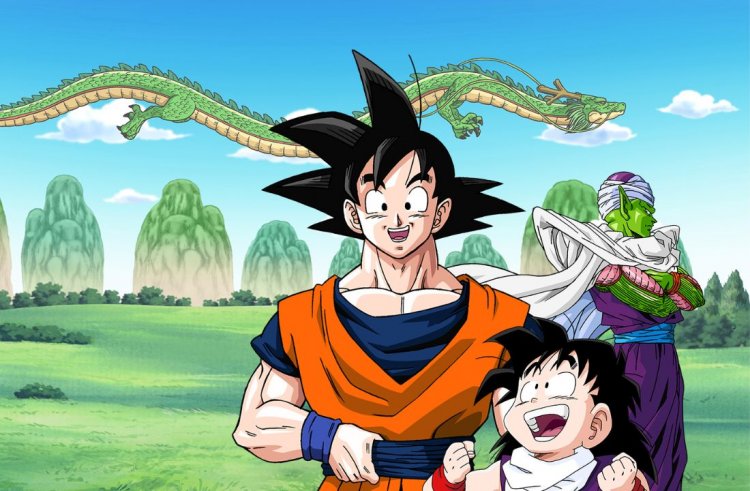 (Image Credits: CuteWallpaper.org)
To petition the Earth's protector to bring the immortal dragon back to life, Goku heads to the watchtower. Goku is required to stay and train on the watch for three years to defect Piccolo Jr. as recompense for reviving the immortal dragon.
Release Date: May 20, 1992
End date: November 18, 1992
Episodes: 26
Dragon Ball Z Season 6
Dende decides to take over as the next guardian after Goku visits the Nameks' new world. Mr. Satan announces that Cell will be his opponent in the Tournament. Dende generates a new Dragon and a fresh batch of Dragon Balls once he lands on Earth.
Release Date: November 25, 1992
End date: July 21, 1993
Episodes: 29
Dragon Ball Z Season 7
Gohan is now a teenager, seven years after the Cell Games and Goku's passing. Chi-Chi chooses to enroll him at distant Satan City's high school for the first time. He meets Videl, Hercule's daughter, there.
Release Date: July 28, 1993
End date: March 2, 1994
Episodes: 25
Dragon Ball Z Season 8
After noticing the tremendous increase in power, Goku and Vegeta conclude that Buu has been hatched. Majin Buu taunts Dabura, who he then eliminates together with the King of the Demons with a single strike. Vegeta and Goku sense Buu's strength surge. Goku persuades Vegeta to delay the fight until they can defeat Buu.
Release Date: March 9, 1994
End date: January 25, 1995
Episodes: 34
Dragon Ball Z Season 9
When Goku and Vegeta do locate them, they are asleep but still alive and bound in cocoons. As Goku and Vegeta destroy the cocoons, Super Buu transforms back into his regular self. Dende and Hercule keep after Buu. Goku and Vegeta also discover the chubby Majin Buu within Majin Buu's lair.
Release Date: February 1, 1995
End date: January 31, 1996
Episodes: 38
Is Dragon Ball Z available on Netflix?
Dragon Ball Z is available on Netflix but only in certain selected regions. Currently, Dragon Ball is not an option if you are outside of Japan and try to view this Japanese anime TV program on the local content library in your area.
Streaming Dragon Ball from the US, Canada, the UK, or any other country is impossible because it is only available in the Netflix Japan collection. Even if you are a native Japanese speaker who signed up for your Netflix account in Japan, you won't be able to see this Dragon Ball series if you are traveling outside of Japan since Netflix will only display content relevant to your current region.
So one has to go in for a VPN connection, and one can either use one of the three VPNs given below.
ExpressVPN
NordVPN
Surfshark
How to view using a VPN
Step 1: Install Express VPN on your computer.
Step 2:
Launch the Netflix app.
Choose the three dots.
Enter Japan in the location field.
Choose the suggested content.
Step 3: Press the power button.
Step 4: Open Netflix and watch the program.