After The Teddy Bear Controversy, Balenciaga Announces A Lawsuit Against A Separate Advertisement
After The Teddy Bear Controversy, Balenciaga Announces A Lawsuit Against A Separate Advertisement
Updated on November 29, 2022 10:19 AM by Michael Davis
Inexplicable acts and omissions
Balenciaga had just apologized for its new holiday ad, which showed kids with bondage gear holding teddy bear-shaped bags when another controversy broke out last week. After a Supreme Court ruling on child pornography laws was found in a previous ad, the high-end clothing company had to apologize again in less than 24 hours.
The United States v. Williams ruling from 2008, which ruled on the legality of a law against promoting child pornography, was shown on a desk with other papers in an ad for a black-and-white purse that cost more than $3,000. Balenciaga said it will sue North Six and set designer Nicholas Des Jardins over its advertising campaign for spring 2023.
In documents filed Friday in the New York State Supreme Court for the County of New York, the design house said that "unexplainable acts and omissions" done without Balenciaga's knowledge were "malicious or, at the very least, highly careless." The company wants at least $25 million in compensation for the "false link" between Balenciaga and the "repulsive and very upsetting issue of the court verdict."
Balenciaga's response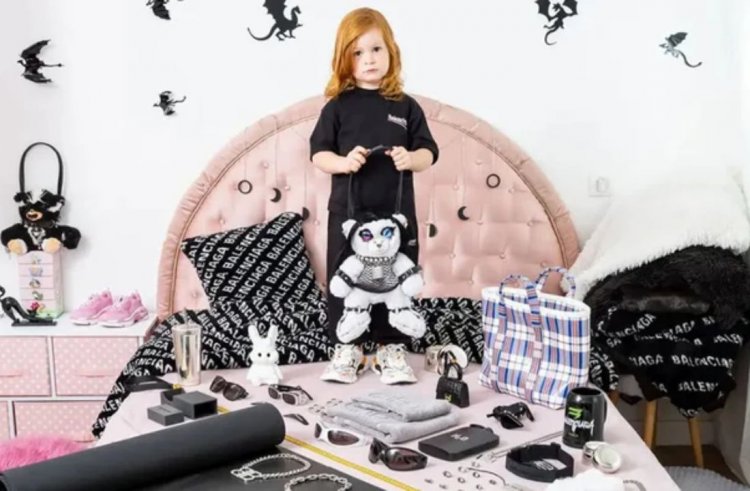 (Image Credits: Know Your Meme)
The Washington Post asked Balenciaga for a comment, but they didn't give one. North Six wouldn't say anything about the claims.
Gabriela Moussaieff, who works for Des Jardins, told The Post that the court documents in the ad "were rented from a business that makes props for movies and TV shows."
"Everyone from Balenciaga was there for every shoot and edited every photo afterward," Moussaieff said, adding that Des Jardins is "being used as a scapegoat" and that she is putting together a legal team.
Balenciaga's website
The photograph shown on Balenciaga's website was taken in July. It displayed the "Hourglass" handbag, a collaboration between Balenciaga and Adidas that featured the latter's signature white stripes against black leather and a B-shaped buckle. In the advertisement, a printout of the Supreme Court judgment spills out of a manila folder beneath the bag. The commercial was the second to be dropped by Balenciaga in the past week; the brand issued a statement announcing the decision and apologizing "for portraying disturbing papers in our campaign." "We firmly condemn all forms of child abuse," continues. It followed a second statement in which the firm expressed regret for the portrayal of children in its holiday advertisements.
Balenciaga's "Toy Stories" holiday campaign, taken by National Geographic photographer Gabriele Galimberti, sparked a backlash earlier this month. This advertising campaign contains photographs that echo Galimberti's past work depicting children surrounded by their toys. In one instance, the toddlers were shot next to wine glasses and other baubles while holding stuffed animals with smashed eyes, fishnet tops, and leather harnesses.
While Balenciaga also deleted the teddy bear advertisements, a spokeswoman for the design brand informed the Daily Mail that Galimberti's photoshoot would not be subject to legal action.
The award-winning Italian photographer stated in a statement posted to his Instagram account last week that he had no control over the items or models utilized in the shoot.
Galimberti commented, "I was only tasked with lighting the specified location and capturing the images in my trademark way." As is typical for a commercial shot, the photographer has no control over the campaign's direction or the presented items.
'The Simpsons' and Croc
Priscilla Gonzalez, a stylist and fashion content producer from Mexico, said that Balenciaga's "Toy Stories" campaign was "a terrible attempt to give people something to talk about."
Gonzalez says that the edgy design company has become known as "almost an anti-fashion brand" because its collections are based on "The Simpsons", and Crocs push the limits of what is cool. This year, it came out with a $1,500 purse made of leather that looked like a bag of Lay's chips.
But how much can you pick apart what's cool? Gonzalez stated. There is a thin line between being creative and using kids as props or making them pose with things that don't belong to them.
Review of ad campaigns for Balenciaga
In the age of social media, it's easy for people to talk about how they don't like ads. After Balenciaga apologized for the cuddly bear bags, which it said: "should not have been shown with children," social media users "started looking at earlier campaigns almost with a magnifying glass" and found the spring 2023 ad with the child pornography case papers, said Gonzalez.
Both Balenciaga ad campaigns are being looked at right now. Kim Kardashian often wears Balenciaga clothes and has been in several of its ads. On Sunday, she said in a statement that she is "currently re-evaluating my relationship with the brand" based on its "willingness to accept accountability for something that shouldn't have happened in the first place" and "the steps I expect to see them take to protect children."
Gonzalez also said that the brand should be responsible for the ads.
"All of these decisions are reviewed and looked at from many different angles," she said. Who gave the go-ahead, and where did it all go wrong? Balenciaga needs to start being responsible right away."
Different brands' big mistakes
Gonzalez, who used to like Balenciaga, said that the fashion industry has learned a lesson from the back-to-back ad scandals: "Brands can no longer get away with these big mistakes."
"In this digital age, where anything can go viral and anyone can look into it, customers have a strong voice," she said.