Ciara & Russell's Unforgettable Love Journey
Ciara & Russell's Unforgettable Love Journey
Updated on August 11, 2023 15:35 PM by Andrew Koschiev
Introduction
Introduction(ImageCredits:HotNewHipHop)
Ciara and Russell Wilson have been a role model for many young lovers wishing to grow their relationship. They have been in a strong relationship since they began dating in 2015. Even after more than seven years together their love shows no signs of slowing down.
Now after creating a beautiful family with three lovely children the couples have officially announced the addition of a fourth child which will be her and her partner's third child together. Sharing a video of her baby bump on Instagram, she captioned it with a line from her song "How We Roll," saying, "You look at me like that again, we make another kid. You my heart I'm your rib." In his own Instagram post, Wilson, her partner, added, "That's just 'How We Roll.'"
The Early Days: Meeting and First Interactions
Russell Wilson and Ciara's romance has only grown stronger since their first public appearance together in 2015. Since then their romance have only grown stronger and better.
The couple decided to keep their blooming relationship out of public eye after their first meeting in March 2015 and in April 2015 they were both spotted at the wrap party for NBC's I Can Do That. "They were seen comfortably seated in a booth together during the party," a witness shared exclusively with US daily at that time.
Choosing a Path: Celibacy and Commitment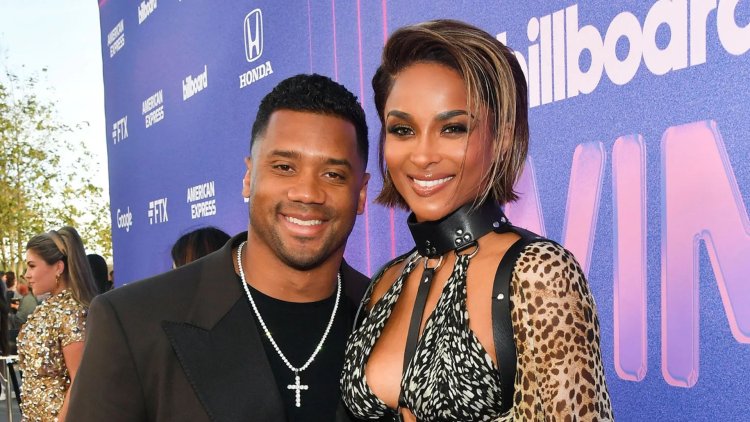 Choosing a Path:Celibacy and Commitment(ImageCredits:Billboard)
After making their relationship known to the public, in July 2015 both of them officially disclosed that they were going to maintain celebacy before they officially tie the knot. "I posed the question to her, 'What if we removed all other aspects and adhered to the teachings of Jesus, refraining from sex?'" Wilson shared during an interview at The Rock Church. "I believed that God had brought me into her life to bring blessings upon her, for her to bless me, and for us both to impact numerous people. We recognize that we're not going to achieve perfection, by any means."
Ciara on the other hand also stated how she was happy by their commitment to sexual abstinence. When interviewed by Cosmopolitan in February 2016 she stated that "It's been going well. We're maintaining. I won't deny, being human makes it challenging, Especially when I gaze at him and see the most breathtaking sight I've ever witnessed - honestly, the most captivating. I find myself saying, 'Look away! Look away!'"
A Whirlwind Romance: Engagement and Wedding
in January 2016, Ciara representative confirmed that she and Russel were officially engaged as he popped the question after there romantic European vacation. The highlight of the trip came when Russell asked for his new fiancé's hand in marriage on the enchanting and intimate Honeymoon Beach, situated on North Island."
Ciara and NFL star Russell Wilson finally became legally married in Peckforton Castle in England in a small private wedding which they celebrated with over 100 friends and family members. Among the attendees were big stars like La La Anthony, Kelly Rowland, and Serena Williams. Shortly after their wedding, the couple playfully discussed their intimate life in a Snapchat video. Ciara asked her husband, "So, baby, you know what we're doing tonight?" Wilson responded, "And what we did last night, I want to do multiple times."
Growing as a Family: Parenthood and Expanding Their Brood
Before her marriage to Russell Ciara already had a son named Future Zahir Wilburn from her previous relationship. Following their marriage, the couple happily greeted the arrival of their first child, a daughter named Sienna Princess Wilson after nine months.
In July 2020, they further expanded their family when they welcomed a second child together. A son which they name Win Harrison Wilson as they announced his birth on Instagram.
Their Everlasting Love: Key Moments and Public Appearances
Their Everlasting Love: Key Moments and Public Appearances(ImageCredits:The Independent)
In July 2021, to celebrate their five years anniversary, the couple went on a romantic trip to Italy. Taking inspiration from a memorable moment captured at the very same restaurant during Prince Charles and Princess Diana's visit in 1985, Ciara and Wilson decided to recreate the iconic photo which Ciara proudly uploaded on her her Snapchat and Instagram posts.
In 2022 father's day celebration Ciara also penned down a heart warming tribute to Wilson which she captioned "Unwavering Love. Unconditional Care. Constant Support. Every day, I witness the tremendous power of God's love reflected in your unwavering dedication to our children, and your relentless effort to guide them towards embracing their true calling, Our heartfelt adoration for you knows no bounds! You are our unshakeable foundation! Happy Father's Day, beloved @DangeRussWilson!
Conclusion
Now in another beautiful moment Ciara has announced that she is expecting her fourth child, which will be she and Russell's third child together. Sharing a video of her baby bump on Instagram, she captioned it with a line from her song "How We Roll," saying, "You look at me like that again, we make another kid. You my heart I'm your rib."
Also Read : Spencer Octavia Tribute: My heart is broken for Sandy' as she mourns the loss of her 'soulmate' Bryan Randall

Also Read : Mind Over Mansion: Katy Perry and Orlando Bloom's Courtroom Clash Unveiled!